Alternative Uses for a Shoe Rack
A few houses ago, I had a shoe rack.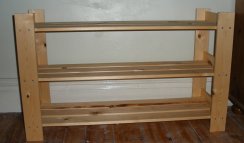 I remember it in our first house together, and I'm not sure if it got assembled in the house after that. Its been in storage since then until yesterday. When I unpacked it, I discovered this sign attached to it (not before I had torn it though!)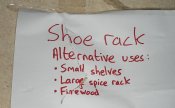 It reads:
Shoe Rack. Alternative uses:
– small shelves
– large spice rack
– firewood
It turns out that the author didn't consider the future of the shoe rack closely enough … its now a handbag store :)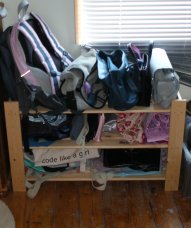 What's your most innovative furniture adaptation?