Movable Type Fonts and Ubuntu
Since relaunching this site, with actual design rather than several shades of pink thrown together, I've become more aware of being consistent in presentation. With this in mind, I wanted add the same fonts to Ubuntu that are used here.
The title font used on lornajane.net is
League Gothic
and using it caused me to learn about
The League of Moveable Type
. Not only do I agree with their principles, they have some really beautiful fonts available into the bargain!
As an Ubuntu user, installing fonts couldn't be easier and predictably there were some great instructions when I actually looked for them. In a nutshell, download the font and double click it (the .otf file). You'll see this: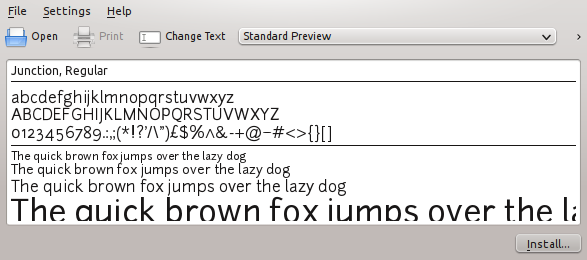 See the install button on the bottom right? That's all there is to it! You'll need to restart your applications for them to pick it up, but your font is installed.
Favourite Fonts
And while you're at it, why not checkout my current favourite font, inconsolata, a very nice fixed-width font with a very nice license to match. What's your favourite open licensed font? Do share, I love having a better selection both for the web and on my laptop!