I know I've been pretty quiet around here lately but we're still without internet at home (don't ask – a story for another day) and work is frantic so I'm struggling to find time. While everyone is waiting I thought I'd let you know that the trap in my house has been disarmed.
Its the downstairs loo door – here are the photos of it from either side: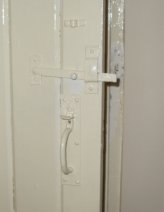 Can you spot the deliberate mistake?
The cross-piece bit that over hangs the door has been switched sides at some point, so that the handle and latch-lifting bits now don't operate anywhere near the bit they're supposed to. So if you go inside, and shut the door, …. then the latch drops and you are locked in!
Happily I've removed the hook for the cross-piece. OK so you can't shut the door on the loo but at least you can't shut yourself in :) Sing while you're in there?