New Book: PHP Web Services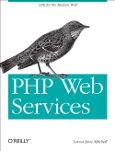 I'm delighted to announce that my new book
"PHP Web Services" is now available
as an early release! This is a project that I've been working hard on for the last few months, trying to put my extensive and hard-won experience of working with APIs into words and examples to make it easy for others to get up to speed in this area.

The book isn't huge (or expensive, hint!), but it aims to give solid theory in a practical and approachable way. There's the topics you'd expect to see, covering HTTP and verbs and headers and status codes, and also around data formats. It also covers RPC services including SOAP, and also has a chapter (predictably the longest one!) about REST. I've tried to go beyond simply the "how to do" and into the "how to do in a kick-ass manner" realm, so there are chapters about how to design your API and choose what kind to build, how to handle errors, how to make your API really robust – and of course how to debug when things go wrong!
The early release means that you get the digital copy now, and updates will arrive in the next few weeks as we finalise on the editing. The book is written and the technical review is done, so it's pretty much production ready, but we're still working on editing the language – and probably ironing out my British spellings! If you'd like to read it, please do. Any and all feedback is encouraged and warmly welcome … and if you want to write a review then I owe you a beer and eternal gratitude!
Whether you get in touch or not, if you read this book then most of all I hope it helps you meet your goals, that was always my aim :)