Recently my friend
Deb
, Leeds Geekup organiser and Ruby developer, gave me two baby courgette plants … she even went so far to photograph me, slightly tipsy, leaving the pub to get the bus home:
I did get the plants home intact and planted them out. I was going to post a whole garden post as I have a few other things also to plant, but I've been elsewhere all week and now its raining rather a lot, so I'm blogging instead. Here's the courgette plants in their new home: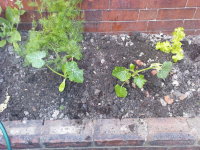 Waiting for my attention are some sweet peas given to me by Great Uncle Sid and some training lobelia I bought yesterday to try to improve the view from my new kitchen window … more about those another day.