My Book is Published: PHP Master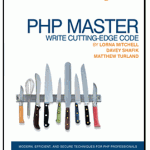 I am truly delighted to announce that "my" book is published. Technically it's really "our" book since I had the pleasure of co-authoring with friends and PHP rockstars
Davey Shafik
and
Matt Turland
. The book is "PHP Master" and it's a broad-ranging text covering a series of topics that we felt were relevant to PHP developers who aren't beginners, but who are looking to fill in some gaps and get a good grounding in creating whole applications in PHP.
You can read more about the book on the
page I made for it
, and by reading
Sitepoint's announcement page
. There are also some
sample chapters to download
(OOP, APIs and security) to give you a taste. The
digital editions
are out already and the
paperback version
will be available on October 31st.
On a very personal note, this is my first book, and at times it felt like a mountain to climb. I love to write and to teach so the combination has been exhilarating and exhausting in equal parts. Of course, the release of the book is actually only the beginning, and I'm excited to be able to recommend it to people when I'm asked questions which I've already answered there :)