I don't often do product reviews here, but I recommend this one a lot so here goes … I have a smart watch, the
Garmin Vivosmart
(warning: affiliate link). I really like it and its integration with my android phone so I thought I'd share my experiences.
I got this mostly for the ability to receive call and text notifications from my mobile phone; I own the only decent phone on the market that fits in a ladies-sized pocket and finding that device gets harder every time I have to replace it! The result is that I have my phone in my bag and therefore miss calls and messages from friends and family (my phone doesn't get many of those, but they are usually important). The screen is not fancy, monochrome and doesn't do anything special other than display information and allow you to interact with it by touch/tap/swipe. It is rugged – you literally never take it off, it can come in the pool, in the rain, in the shower, everywhere. That's taken a bit to get used to and if you leave your phone too near the pool, you still get texts ….
This Garmin device integrates with some of my existing ant+ accessories (I also have the forerunner 410) including my heart rate monitor, which was also a factor in picking this option. It is quite sports oriented, with step tracking and workout recording in it – I'm not sure I would ever have got a fitbit and I don't pay much attention to the data but it does seem to work well. It also tracks sleep (accurately? Actually not bad although I'm not sure it's exactly scientific) by showing a movement graph during your nominated sleep times. You can also tell it when you go to sleep and when you wake up but I never remember.
The connection is Bluetooth 4; my Samsung S4 mini had the right hardware but was one point release short on OTA updates to be able to drive the watch! To get around this, I installed cyanogenmod on my phone (this happens to most of my phones sooner or later) and it works like a charm.
The alerts are really well-integrated. By default the watch will alert you to everything that is shown in the top-left bar on your android device. The settings for this are hard to find (every time!) … in the Garmin Connect App, click the menu icon at the top left, then choose "settings" (a picture of a cog) at the bottom of this new panel. From here you can configure which events and applications will be sent to the phone. I instantly turned off email alerts, but have enabled some apps to send their alerts to the watch in addition to the phone and text alerts that I wanted. You can choose per-application which ones are allowed to do so, which is elegant and so far always fitted what I wanted to do – for example while at a conference I allowed the conference app to send reminders of the next session I had favourited to my phone, which helped me to find my way around a large event.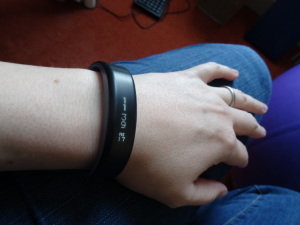 Battery life is great, over a week for me, and no impact on my phone battery as far as I can tell. It's a totally proprietary charger though, which is a challenge for someone who travels a lot. I now try to charge it along with the camera, backup battery, and whatever else before a trip :) The watch also comes in two sizes, I have the small which is perfect on my tiny wrists (I'm a big person, but if I wear a bracelet I need a child's one) and has plenty of room to go smaller than this – a refreshing change after some of the other gadgets on the market aimed at someone with much more arm space than I have!
All in all, I'd be lost without my call/text notifications on my wrist now, I love this feature as much as I thought I would!