On Monday I start my
new job
and I'll be mostly working from home which will be nice, but quite a change. I have a lot of online friends that I have yet to meet in real life but to have a whole set of colleagues, some of them in another country (
IBuildings
is a Dutch company) is all new to me. It'll be nice to avoid the annoyances of sharing an office, with other people's music and cleaning up after others too. I know I am organised and self-motivated enough to manage the working patterns as well, which is one less thing to worry about. If I had needed to be in the office every day, I simply couldn't have managed it as they are based in London. In preparation for next week, I thought I'd share some photos of my home office. To the left are my flower pictures that I found in a box when we moved, they came from another house we previously rented.
I also have some essential accessories for any office: A map of the world and a nabaztag. This one is called Tag and is our second one of these rabbits.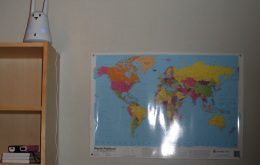 Finally, check out my lovely big office chair, modelled here by my Christmas bear, now named Busibear as he lives in the office and oversees business. The chair was a birthday present from my parents, thanks mum and dad :)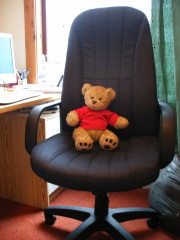 I have a nice new notebook and a futon for any visitors that pop in, I think I'm all set...