It's Christmas and we're at home this year, which means I've been spending a lot of time in the kitchen! This post combines Christmas planning thoughts, a craft project, and some recipes we enjoyed this year – and delivers a surprise to anyone subscribed to the main blog feed expecting only technical content. I don't do the dinner myself – my husband does an excellent roast dinner so he does that and I do the trimmings. This year was a
three bird roast from the Swillington Organic Farm
, accompanied by champagne, and it was fabulous!
Planning Ahead
Food is a big tradition in my family, but we do like to overcater – and I really believe this tendency is genetic! Therefore when I am planning Christmas (or having visitors any other time really), I try to avoid "killing with kindness"! My basic strategy goes like this:
Draw up a plan of the days in question
Write in what will be eaten in which sitting, including puddings, drinks, etc – and also how many people to expect
Locate recipes as appropriate
Transform the above into a shopping list
Now the hard part: go shopping and only buy what is on the list!
This avoids spending a lot of money on things "just in case" and then throwing it all out 10 days later when it's well past eating. My cupboards and freezer are not exactly empty, so I can always cope with unexpected visitors. The stress of the season sends me silly in the supermarket if I don't have a plan (exactly like trying to deliver any large project or event, really).
Craft Project
Once upon a time, I wrote a lot about various crafts on this blog, and I do get complaints these days that it rarely happens (hi Dad!). Therefore I'd like to share this year's table centrepiece: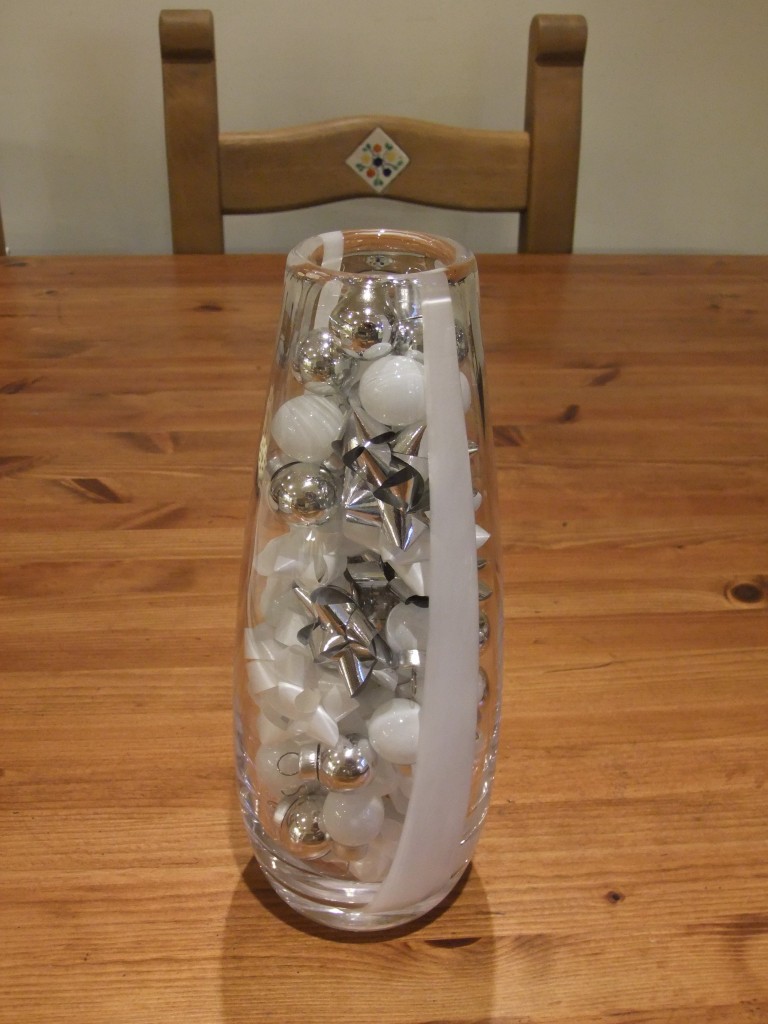 To recreate the above, take one fairly small vase (any shape will do), and fill with Christmas decorations. This year I bought tiny baubles from Ikea with a completely different project in mind but failed horribly at inventing the thing I was imagining. So instead, I took the white and silver baubles and some white and silver gift ribbons (this year's colour scheme is red and gold) and put them in the vase. I've done similar things in the past with fir cones, and fairy lights also work well (don't let them get too close to anything else, they can get hot!) for a festive flair without too much stress. The baubles can go back in the box and turn into something else next year, too.
Is is a genuine craft project? Well, I think so, and I like it!
Recipes
While I don't cook the Christmas dinner on Christmas Day, Christmas Eve usually means a lot of cooking for me. My mincemeat was done ahead of time as I have a freezer recipe that I love (also on my blog), so that was a good start. I don't like either Christmas cake or Christmas puddings, so I make neither, however this year my husband confided that he was feeling neglected at the absence of a Christmas cake – so I made this light fruit cake which (one slice in so far) is citrussy and fruity and wonderful. It's not the kind of cake that rises (and beware it takes over 2 hours to cook!), but that means it will keep if it doesn't get eaten this week.
I took the mincemeat and made one large mincemeat tart, and a collection of muffin-sized and tiny mince pies. This is fiddly but well worth the hassle – I don't make pies often so it's a novelty in my house! The larger tart is pudding on Christmas day but the last thing you need when you're trying to do Christmas lunch is someone rolling out pastry in the middle of it all so I cooked this the day before to avoid annoying the chef. I also made the apple sauce, cranberry sauce and my first attempt at not-packet-stuffing (actually very nice lemon stuffing recipe, although I did put too much lemon juice in it I think) on Christmas Eve.
All in all it's been a lovely Christmas, I had some fabulous presents (most of them geeky – I spy a theme!) and had plenty of time to sit down, enjoy those and the people around me, and relax. A bigger family gathering is planned for tomorrow, and I'm planning a simple sausage casserole and have delegated pudding, in an effort to remain relaxed.
Merry Christmas!